We offer corals that are beloved not only in Japan, but throughout the world, all while flexibly accommodating to the trends of the times.
To that end, we constantly devote ourselves to research and improving technical skills, and we strive to carry coral jewelry at reasonable prices.
Gauging raw coral
Bringing in stock of raw corals is one of our most important operations.
To avoid making personal assessments that neglect the opinions of others, it is important to pinpoint trends in demand and purchase stock of quality raw corals at fair prices.
In order to do that, we engage in research — which goes without saying — as well as strive on a daily basis to be able to make unequivocal appraisals.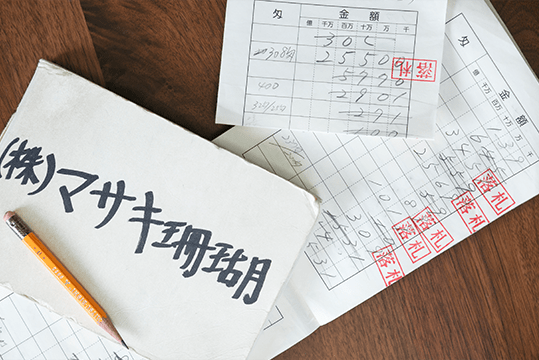 Raw Coral Purchasing & Auctions
The raw coral for coral jewelry that is produced domestically within Japan is actually centrally aggregated in Kochi Prefecture — the primary producer of raw coral — and only a limited number of manufacturers including Masaki Coral are allowed to place bids on the coral.
A wealth of knowledge and experience is crucial in order to reasonably purchase raw coral given these conditions. A professional eye is needed to gain insights into the internal structure of the coral solely from its external appearance. With the scrutinizing eye for coral that we have developed over the years, we are able to purchase high-quality raw corals at reasonable prices.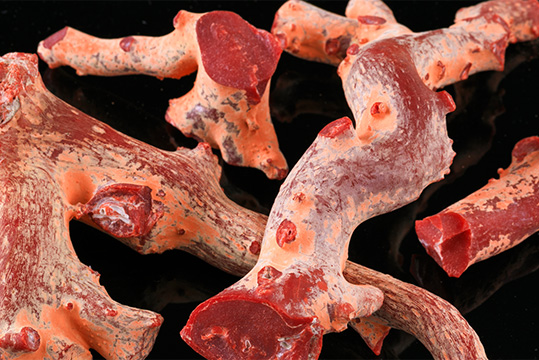 Material selection
We sort the raw corals that we win bids on by color, size, and quality. Gauging a purpose that is in line with the characteristics of the material — i.e., for use in jewelry or sculptures — is also important.
We also frequently move forward with work on raw corals by removing the epidermis and smoothing out rough areas in order to get a sense of the inner structure. For exceptional raw corals, on the other hand, we sometimes cut the corals as they are, polish them, and finish them as loose (unset) gems. Corals that are finished as loose gems and can be used as standard jewelry account for approximately eight percent of production output. When it comes to fine, high-fashion jewelry, that number is a mere two to three percent.
Mastering technique
Depending on the processing method, coral morphs into a variety of different forms. However, sophisticated technical abilities are required to enhance the added value.
It is also critical to gauge what kind of product a given raw coral is suited for.
At Masaki Coral, artisans equipped with sophisticated technical expertise craft our corals. Our red coral carving techniques in particular have established a proven reputation in the industry.
Proud to be "Made in Japan"
Proud to be "Made in Japan"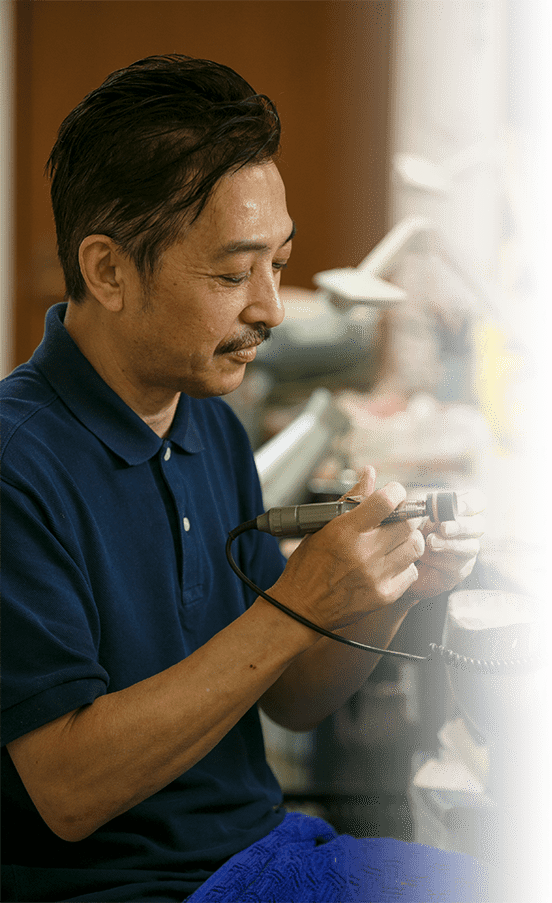 The longer you work one-on-one with coral, the more it reveals its profound intricacies
I always give my utmost attention when working with coral. If you make even a minor mistake and the coral chips, the value of the product drops. Also, no two corals are the same. Although I have continued in this profession for 40 years, I feel the profound intricacy of coral every time I work with it.
At work, I place particular focus on "inlaying," which is the process of inserting accents such as sea shells into the coral. Although it is an extremely meticulous process, it feels good when the finished product turns out just as I imagined it.。
I want to continue focusing on placing the finishing touches on coral so that customers state their preference for me to make their products, even if others do the same task. I also hope to pass down my techniques to younger people.
Started:
April 1977
Career Achievements
・March 2006
 Nangoku Tosa Coral Masterpiece Contest Jewelry Category Kochi Governor's Award
・September 2009
Japan Jewelry Association 1st Division Jewelry Design Award
・March 2016
  Kochi Coral Cooperative Union Jewelry Category Coral User Award
Multiple other awards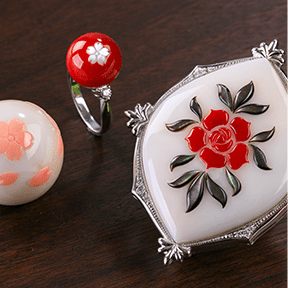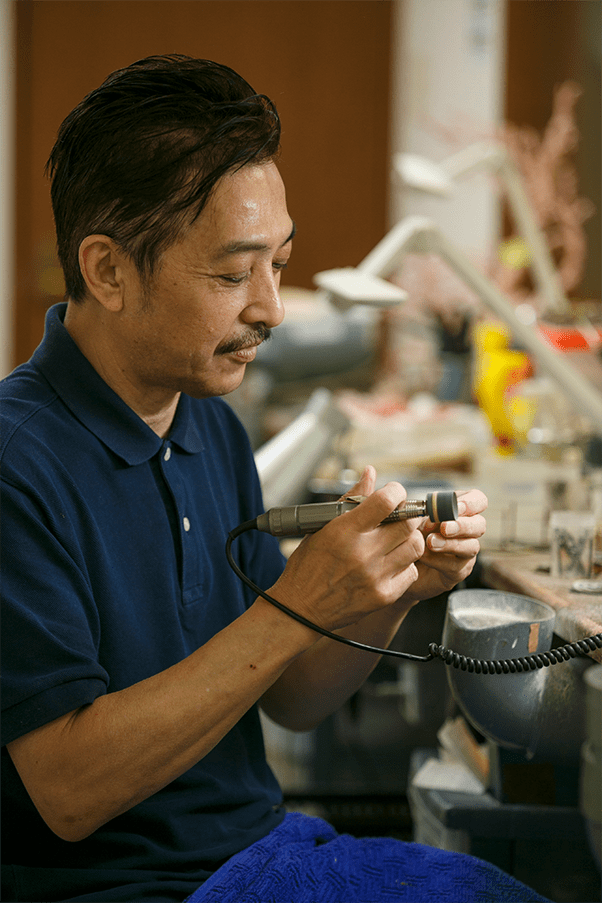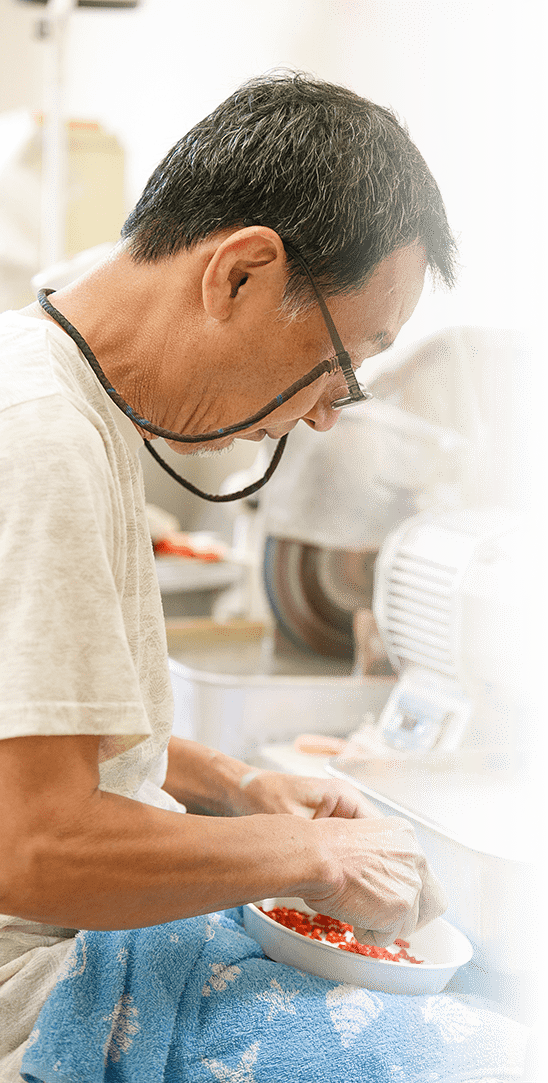 The importance of refining not only technique, but also artistic sensibility
While I naturally focus my efforts on producing jewelry products, I also focus on crafting sculptures. I assemble polished corals and create works that are designed around motifs from the natural world, such as flowers and animals. I was even awarded a prize at a local art exhibition for a sculpture inspired by the water lilies at Monet's Garden located in Kitamura, Kochi. I am deeply touched when customers purchase my products and give them considerable praise.
I essentially learned my techniques on my own, but I still pay visits to art exhibitions and natural surroundings, and continue to refine my sensibilities. Without both technique and sense, you cannot make decent works of art.
My techniques, of course, are still trial and error every day even now. As a craftsman, I believe it is important to provide added value to coral through technique.
Started:
April 4th, 1977
Career Achievements
・June 2011
  Ino-cho Paper Museum Ino Art Exhibition Honorable Mention
・November 2014
  Kochi Mayor Recipient of Kochi City Skill Achievement Award
・March 2016
  Kochi City Tourism Association Planar Sculpture Category Kochi City Tourism Association Chairperson's Award
・March 2016
  Kochi Chamber of Commerce Planar Sculpture Category Kochi Chamber of Commerce President's Award
Multiple other awards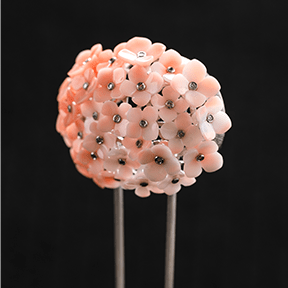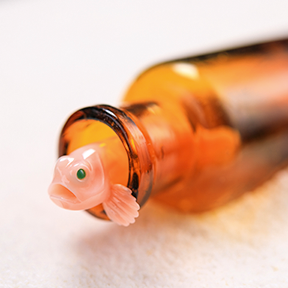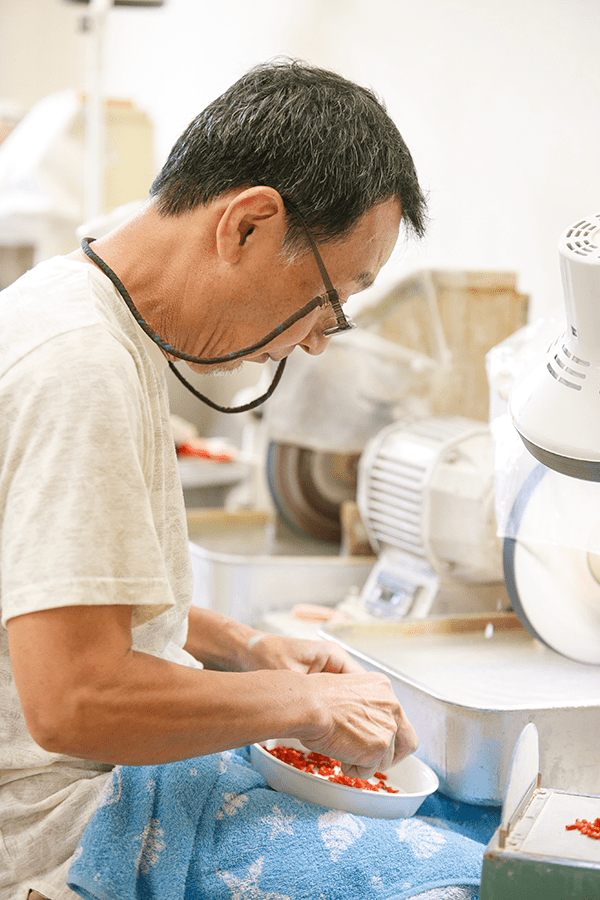 Refining design
We are dedicated to "simple designs that leverage the underlying material" to produce jewelry products that are beloved by all.
Our simple and long-beloved designs incorporate trends of the time while staying away from cheap gimmicks.
With designs that are beloved by everyone, it is our hope to expand support for them as coral jewelry products.